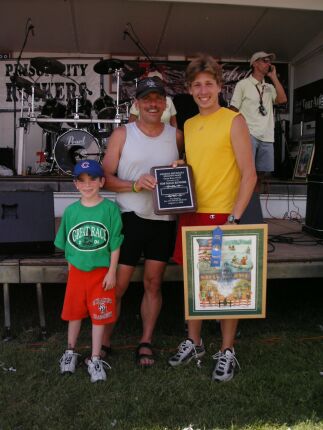 From the Awards ceremony of Great Race 2006
George Michaels Memorial award winner Fred Joslyn(r) with presenter Bill Michaels. The 2008 award will be in memory of Bill, who passed away in 2007.

The Bill Michaels Memorial
Award for Running
For 15 years, the George Michaels Award was given annually by Lee and Bill Michaels. Bill, who lived in Denver, made an annual trip to Auburn to compete in the GR. In 2007, Bill died after a long battle with Lung Cancer. Despite his cancer, Bill competed in 2005 and 2006. In the summer of 2007, as he neared death, he was still making plans to compete in the GR. In 2007, two weeks after his death, the female award was named the Bill Michaels memorial award. Beginning in 2008 both awards are now given as the Bill Michaels Memorial Awards.