The Great Race

The Captain Myles Keogh Paddle, Wheel & Run

History of The Great Race
A look back...and a look
at the present*

by Jim Hanley and Lee Michaels, *1998

Back to Home Page
In 1977, Don Westee, Marty Keough, John Sabotka, and Steve Schwartz competed in The Josh Billings Run-a-Ground in Western Massachusetts. Soon after returning to the Auburn area, the group was discussing the race and the fun that they had had. Al Hastings, an athletic director at the Auburn YMCA-WEIU, and Jim Hanley were listening. Everyone agreed that this type of event might be fun and successful in Auburn.
A committee was put together with Al Hastings as the chair. The other members of the committee were Marty Keough, Don Westee, Jim Hanley, Al Wilson, Terry Matro, Lee Michaels, and Mike Bintz. (Al Hastings served as chairman for 20 races and only resigned when out of town job pressures required it. Don is an "emeritus" member of the committee. Jim, Marty Al Wilson, and Lee are still active members. ) Within the first five years, Dick Balian, Frank Ruggiero, Brad Davidson, and Don DelloStritto had joined the committee.
In the early meetings of the 8 member race committee their ideas began to flow. They knew that the race had to occur near Owasco Lake. Thus, arrangements were made to use Emerson Park and Deauville Island as a staging and central area.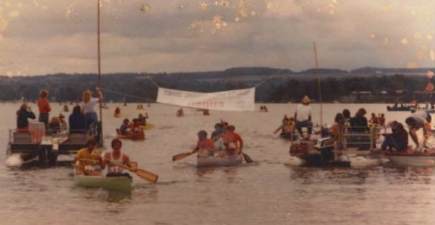 The first race, in August of 1978, began not with the 10km run for which the race has been known for all but one year but with a 5 mile run which began on Lake Avenue in front of Auburn High School. The second year, the race started directly in front of Green Shutters Restaurant and immediately headed west on White Bridge Road. For the first few years, the bicycle course was an out-and-back route mainly conducted along West Lake Road. For the first few years, the exchange zone from runner to bikers and bikers to canoers was in front of the Indian Museum/state boat launch area of Emerson Park. For several years, bikers were not even required to wear protective bicycling helmets. When headgear was first required, some participants were quite creative, wearing construction hard hats and baseball batting helmets, with straps attached, always vigorously insisting that they were "legal." You will find some vintage pictures of early races, including the very first run start, the start at Green Shutters, some chaotic exchange areas, and some pretty crude canoe finish line set ups here. Or you may follow this link now to see the vintage photos of Great Race I and other early races.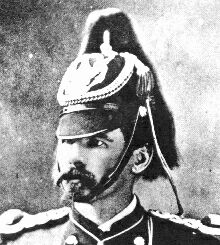 Inspiration for the logo

The committee also had to choose a name for the race. They thought that the Josh Billings name used in Massachusetts was a nice touch. They figured that Josh Billings was an historic figure in that area. When they inquired, they learned that the race committee in western Massachusetts did not know if a Josh Billings had ever existed. Our committee wanted to use the name of a true local historic figure. After some research, the race was offically named the Capt. Myles Keogh Paddle, Wheel & Run. Many people thought that Capt. Keogh was a long lost relative of Marty Keough, but Marty corrected them. Actually, Capt. Keogh was a post Civil War hero from Auburn, who had died at Little Big Horn with Col. Custer in his famous "Last Stand." The committee knew, however, that it needed a short catchy name to attract attention and distinguish the relay from other events. They came up with The Great Race, stealing the name from a then popular movie.

In July of 1978, there was great concern that the race would catch on and that enough teams would participate to make it successful. At that time, before the common use of computers, the committee had set a cut off date for entries, about a week before the race. One member recalls fondly that, on the next to last day that entries could be submitted, at about 4 pm, he and Al Hastings took inventory and went out for an afternoon run. They were pretty concerned, because, at the moment that they left, there were about 85 teams entered. People being the procrastinators that they were (and still are) when they got back to the Y from their run, there were over 110 teams entered. What exciting news!

In its early years, coming during the peak of the running craze in particular, participation grew by leaps and bounds.

The original goal of The Great Race, still true after over 3 decades, was to have fun while promoting physical fitness. The committee has always sought to attract both elite athletes and just average folks. The committee has always felt that, if they could get the average person to begin exercising for this race, it might become part of their life and add to their overall well-being. In order to attract people, numerous open and age group categories have been established and regularly supplemented as the need develops. We recognize that there will always be athletes possessing different skills, discipline and speed, but there will always be people who want to compete but might not feel that they could measure up to the talented elite athletes.

The race committee has always wanted people to feel that the race was, indeed, every person's race, and that there can be many contests within the large contest, between friends, acquaintances and relatives. Some people want only to finish. Others want to beat a previous "P.R." or personal best time.

Spectators are a very big part of this race. For that moment when contestants of all skill and speed levels cross their individual finish line, there is no feeling like hearing the crowd cheering at the end.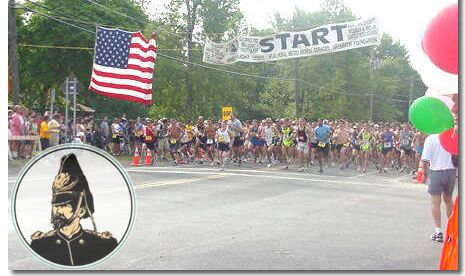 The first year, there were 125 teams. By the second year, 225 teams signed up. The Great Race grew to 680 teams in 1986. Those who can remember this are also able to remember that the run to bike exchange zone was so long that year that it extended part way around the curve where East Lake Road meets the north end of Owasco Lake. Now, the number of team entries has leveled off at a consistent 550 to 650 teams per year.

We have relied on members of the community for 25 years to assist us in all aspects of the race. Many people have actually been volunteers for every year of the race. We could not accomplish our goals without them. To all our volunteers past and present, THANKS !.

(News article from Great Race 25)
Bill Brown, Race director, awards

Marty Keough, food, beverages
Don Dello Stritto, timing, Finish line
Jim Hanley, canoe course
Lee Michaels, Start, run to bike exchange zone, awards
Tim Walczyk, bike course
Brad Davidson, announcements, bike course
Paul Ringwood, sponsors

From 1978 - Seated, (l to r) Don Westee, Al Hastings
Standing, (l to r) Marty Keough, Mike Bintz, Allan Wilson.


Steve Komanecky, awards delivery
Kevin Kelly, results & scoring, web site
Rob Schemerhorn, financial, 5k course, scoreboard, permits
Tom Falsey, canoe changeover zones
John Lawler, 10k course
Bob Blair, exchange zones
Amy Fuller, the finest T-shirts
Kristin DiPronio, finish
Tony DiPronio, changeover zone
Rick Falsey,
Eddie DeLa Cruz,
Chris Roe,
Rick Gray, financial
Rich Newman,


John Scanlan, emeritus*
Al Wilson, emeritus*
Al Hastings, emeritus*
Kathy Annan, emeritus*
Al Celecki, emeritus*
Don Westee, emeritus*
Dick Balian, emeritus*
Mike Bintz, emeritus*


Frank Ruggiero, in our prayers
Geri Read, in our prayers
Dave Schardt, in our prayers
*emeritus (adj.) Able now to go directly to the beer tent when done racing.

Safety has always been a concern. We know that sooner or later, there will be bike accidents. And, since the race is conducted in the summer, heat injuries are common. We have a staff of doctors and nurses performing first aid and triage for injured and ailing partipants. Private ambulence service and volunteer services stand by.

This huge one day event, takes a year to plan. The first meeting for next year's race will take place in September, within a month of this year's race. We are very proud of and grateful to all the committee members and race volunteers, who donate their time to make this work. And we are very grateful to the partipants for supporting this race, so that it can be a financial success and continue from its early beginnings to one of the most mature athletic events in America.
Home Page
---
Home | Rules and Details | Sponsors | Race Photos | Past Race Results | Kids' Fun Run | Race History | Entry Form | Register Online | Race Courses |
Awards categories | Past Winners | Map to Find Us | GR Calendar | Message board | Contact Us | Special Awards | Links | Site Map |